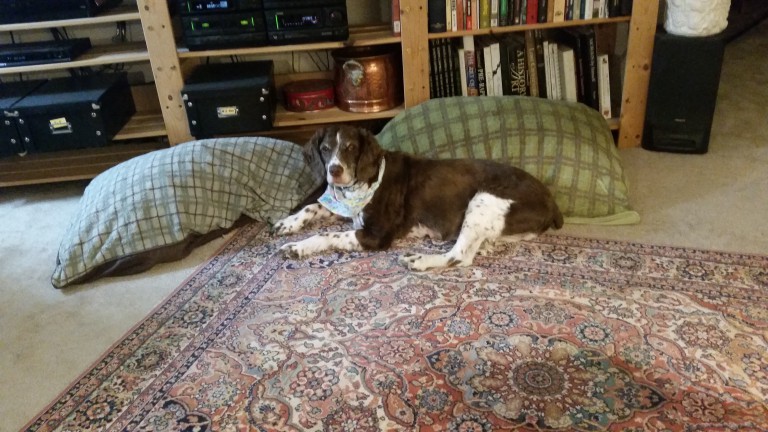 "When I speak of home, I speak of the place where — in default of a better — those I love are gathered together; and if that place were a gypsy's tent, or a barn, I should call it by the same good name notwithstanding." ~ Nicholas Nickleby, "The Life and Adventures of Nicholas Nickleby" by Charles Dickens.
Our Nicholas Nickleby was named after a Charles Dickens' hero who was honest and steadfast, and who devoted himself to his family, watching closely and guarding his home against any who might do wrong to the ones he loved. Dickens once remarked that his character could be violent, but that "If Nicholas be not always found to be blameless or agreeable, he is not always intended to appear so. He is a young man of an impetuous temper and of little or no experience…"
If our Nick could speak, he would admit to being a dog who was not blameless because he had his share of what we called "Zorro moments" when he left a the mark of Zorro in pee down the hallway as he was chased to the door. Nor was he a dog who was always agreeable, for he stubbornly held out for where he wanted to be even though it might involve being forced to leave a hot pickup stuck in the mud after a summer deluge.
Each day, he proved the truth that lay in his name, for he seemed forever young and impetuous. Each moment was a fresh start and held new opportunities for those wonderful cold things called ice cubes, for noontime snacks, for smells, for sheep to flush, or in later life for naps to take and studio hours to insist on (great for napping). Nick took his work of protecting his home seriously, faithfully barking and smelling every pantleg, every boot, and every tire that came across his territory to insure the safety of his family. And in almost all instances he rewarded the inspection with a lick and closer attention.
Today, however, ended the earthly part of our Nick's adventure. Safe journey!