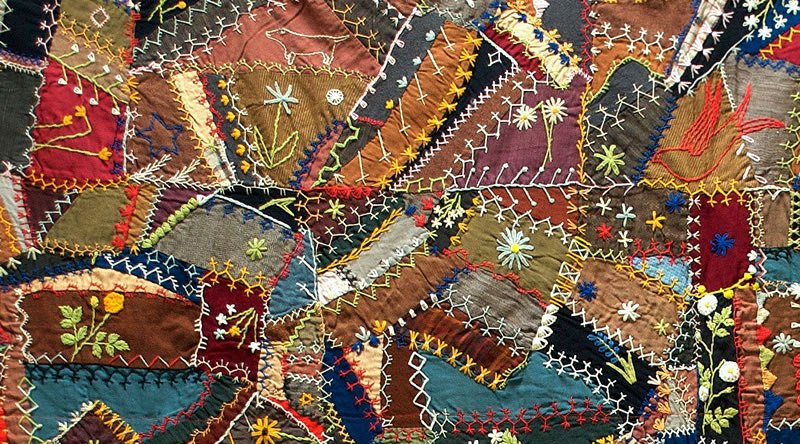 Part V of VI, "Piecing, Ripping, and Restitching"
A century's close generally reflects a feeling, a fear that we are losing the stitching that holds together our world, our sense of order. It is as if, the Seamstress of Time has detected a flaw in the sewing and is ripping away the stitches once placed so carefully. At the same time, we face forward staring at the quilt of our story, knowing full well that stitches and patterns remain for us to apply. The ground feels shaky. Uncertainty reigns.
At the end of the 20th century in America, parts of society preached a heightened awareness of heeding the end times while other parts outlined plans for shelters and storing supplies. Others advocated purchasing electricity generators and converting savings to cash. Society seemed obsessed on how or if a digitized world could face its complex electronic systems switching from a year beginning with 20 instead of 19.
In the latter part of the 1800's, Americans, along with the western European world, approached the fin de siècle, their name for "the end of the century," with both anticipation and dread. However, that term meant so much more than simply the difference in timing between 11:59, 1899, and 12:01, 1900.
The period encompassed the Victorian Age with all the psychosis of its values and outlooks. However, it also included the effects of the Industrial Revolution with the spread of steam-powered engines, the social effects of the loss of cottage industry and the movement to centralized factories. Change was accelerated by faster transportation and improved communication via telegraph and telephone. The time encompassed the drive for political reform and societal changes.
From Charles Dickens to Charles Darwin, new views poked at and prodded old realities. It was a time of an artistic breaking free, of a drive to sophistication, but tempered with a sense of the growing weariness with the world and the accompanying despair over what could or would lie ahead.
Much of the feeling lay at the feet of economic woes. In the U.S., the years following the Civil War were difficult for many, while holding incredible opportunity for others. Sparked by the War's end, gold speculation and the Panic of 1873 led to the failure of Jay Cook & Co, the largest bank in the U.S. and a heavy investor in the railroad boom. That economic situation broke dreams founded in financial speculation after the Civil War and led to the Long Depression, which lasted until 1896.
Perhaps American quilters should be considered at the forefront of what was the advent of the frenetic but short blooming of the creative work that emerged at the end of the American fin de siècle. Women had begun piecing crazy quilts in the 1870's, a time that set the coming societal patterns of extreme highs and lows. However, the popularity of crazy quilts soared with the 1876 Centennial Exposition in Philadelphia when crowds swarmed to the Japanese Pavilion to view its exhibits that showcased the Japanese use of asymmetrical design.
Crazy quilts are constructed with no traditional pattern, but with small pieces of fabric, fit together in random, but aesthetically pleasing ways. These quilts make use of scraps of fabric, sometimes even pieces from wedding dresses and petticoats. The fabric pieces can be velvet, satin, and silk; and many sport colorful and ornate embroidery on their edges. Surface embroidery and beadwork, often depicting plants and flowers, embellished the tops of these quilts, which also sometimes included names and dates of important events. In the finest examples, these quilts reflected the period's idiosyncrasies.
One such striking crazy quilt was created by an early Montana settler Minnie Fligelman. She and her husband Herman moved in 1889 to Helena where Herman ran Fligelman's New York Dry Goods where he gained the reputation of a merchant who served his customers in good times and bad. Minnie used velvet, satin, damask, and silk samples from her husband's merchandise cart to make a crazy quilt (see photo, MHS XI949.04.01). She died at the birth of her daughter Belle in 1891. Her other daughter Frieda was only a year old, but both girls became remarkable women.
Frieda convinced her father to send both Belle and her to college. Although Frieda successfully completed her doctoral exams at Columbia University, her dissertation was rejected because her field, linguistic sociology, was not recognized and considered too controversial. She returned to Helena and founded the Institute of Social Logic because she wanted to inspire others to fight for social change. She also had found that when she traveled, if she identified her hometown, she faced "people who thought that great minds belonged in greater cities."
Frieda' younger sister Belle became one of the state's first female news reporters. She also worked tirelessly for women's suffrage, becoming part of the force that resulted in Montana women gaining the right to vote in 1914, six years before U.S. lawmakers ratified the 19th Amendment, a first step toward granting women citizenship and the right to vote. Belle then helped Jeannette Rankin become in 1916 the first woman elected to the U.S. Congress and served as Rankin's aide during her first term in Washington DC.
Another woman, Mary Kirby, who immigrated from Canada, made a crazy quilt (see photo MHS XI1962.11.01) that records a highly contentious Montana event. When Montana became a state in 1889, the choice of the capital's location was left to popular vote. Anaconda, Boulder, Bozeman, Butte, Deer Lodge, Great Falls, and Helena entered the race. Financial opportunity motivated investors and backers to electioneer for their town, with some like William Clark engaging in the purchase of votes.
Huge rallies drew supporters from towns across the territory. Backers handed out thousands of silk ribbons imprinted with the name of "their" towns for attendees to wear on their lapels and identify their support. Mary Kirby used those ribbons, embellishing some with intricate embroidery, for the crazy quilt that she made in 1893.
These quilts can tell us a great deal. A small "d" democratic interest characterizes and defines quilt making. Quilts have provided us with comfort for our bodies in warmth and for our souls in their beauty. Some would say that they have triggered conversations about both boundaries or the lack of boundaries, physical or social.
But there's something more to a crazy quilt, a relevance that helps us enlarge our perspective. Does that lie in the power of the quilt's beauty and that comfort that stretches us across time to help us understand the communities of the past?
Or, after all the discussion, does the secret to the quilt's relevance lie in its use, whether for warmth or as art, within the spaces of our own time that we see better what we face today?
Or rather does the crazy quilt's power lie in what has been accomplished stitch by stitch…and does that strength stand as a symbol of a larger concept?
(From a six-part excerpt from "Stitching a Crazy Quilt," in Crossing Bird Creek, a collection of essays by E.L. Kittredge. To read more about our places and how they impact our ways of learning, knowing, being, and thriving, visit www.elkittredge.com.)